CCL Design PCB Labels
Standard Polyimide Labels
Polyimide labels are made of the most commonly used material and distributed for use in the electronics industry for users all across the globe. The material gives the label the ability to survive the harshest environments such as extremely high temperatures and reflows they encounter with the SMT processors.
Green/Yellow Polyimide Labels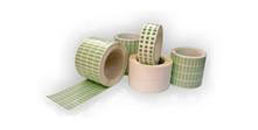 The recent transition to lead free manufacturing has created many new product identification challenges. With most manufacturers producing both tin lead and lead free on their assembly lines in the same factory, the need to quickly and accurately identify such assemblies is paramount. For this and other applications, CCL Design is proud to be able to offer the highest quality green/yellow polyimide labels available on the market today.
Labels for Auto-Apply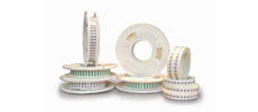 CCL Design is partnered with Hover-Davis Inc. Hover-Davis provides unique label feeders for use on many SMT pick and place machines. These feeders put labels into the pick and place machines so they can then be placed like any other component rather than by hand which saves both time and money. Furthermore, CCL Design also makes labels to the standards needed for use with other auto apply applications.
Automated placement of masking labels
CCL Design is proud to present: automated placement of masking labels in P&P machines. Improvement of this process is a breakthrough in the masking field. Placement of the labels is being done by Hover Davis Feeders and it replaces the manual placement of the Rover Masks and/or labels, in places where masking is required, such as wave soldering and protective coating.
The added value of this process is in saving time and labor as the card is in the placement machine and therefore saves the entire phase of manual placement and drying. The feeder labels are suited to the variety of P&P machines.
The benefits of this process include but are not limited to:
The feeder's work is fast and more precise compared to the manual placement.
Saving an entire phase of the process, minimizing manual labor (placement and drying of the Rover Mask).
No place for human errors.
Labels are available in any shape or form.