Global Technology Award 2021.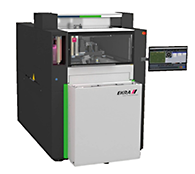 We are proud to present that our long term partner EKRA with its SERIO 6000 printing system is the winner of the Global Technology Award 2021.
The SERIO 6000 is the first fully automatic printer worldwide. The system offers automation in stages - adaptable to the automation level of the existing production. With the smart autonomous printer, squeegees and stencils can be set up asynchronously, for example. Specific tools for the next product cycle can be stored directly on the printer and then automatically installed at the right time. Set-up can be done manually by an operator or autonomously via a Cobot. The SERIO 6000 is capable of operating over several shifts without significant operator intervention.
Discover the autonomous printer - adapted to your needs and easily integrated into your autonomous line or production.
For more information please contact us at

.